Author: Kate Zink at Chronically Holistic
Sadly we're no longer eating the wheat that our parents ate. To be able to keep up with the amount of grain we eat in our diet it has been genetically modified to become drought-resistant, bug-resistant and faster growing wheat. It's estimated that 5 percent of the proteins found in these modified types of wheat are new proteins that were not found in either of the original wheat plants. This is hard for our bodies to recognize and digest and are part of the problem that has lead to increased systemic inflammation, widespread gluten intolerance and higher rates of celiac.
Being gluten free has been a popular topic over the years. Some people immediately feel better, while others (like myself) did not notice any change at first but do long term. There are healthier gluten options just as there are dairy but just be mindful to eat it in moderation. Gluten damages the tight junctions in your gut because it is difficult to digest. When this happens small particles of undigested food, bacteria, and even toxins can escape to your digestive lining into your bloodstream. This then triggers inflammation and can lead to a leaky gut which creates chronic inflammation, food sensitivities and allergies.
Most gluten containing foods are low in nutrients and filled with additives that your body cannot process. Although this is all true, you also want to be careful while choosing gluten free options. Unfortunately, these products are usually filled with crappy oils, artificial flavorings and preservatives to make up for the taste that further contribute to inflammation. As well as the obvious foods such as breads, gluten is hidden in lunch meats, flavored dairy products such as ice cream, processed cheeses, spices labeled "natural flavors" and pre packaged cut foods. Scroll down for hidden sources of gluten.
What is gluten and what does it do to our bodies?
Gluten is freaking delicious but serves us with no nutritional value besides empty carbohydrates. It is a main staple of our American diets, but unfortunately due to the fact most common flours have no nutritional value and that it has became so genetically modified, in my opinion it actually does more harm than good when consumed.
Gluten is defined by the celiac disease association as , "a general name for the proteins found in wheat (wheatberries, durum, emmer, semolina, spelt, farina, farro, graham, KAMUT® khorasan wheat and einkorn), rye, barley. Gluten helps foods maintain their shape, acting as a glue that holds food together. Gluten can be found in many types of foods, even ones that would not be expected". Because of this sticky glue texture it can be hard for our body to digest.
Important note: You don't have to be Celiac (have a gluten allergy) to have a reaction or sensitivity to gluten. This was where I was stubborn and continued to eat it because my celiac labs were negative. Food sensitivity testing can be helpful here but I recommend an elimination diet prior to this.
What gluten does in our body?
If you have chronic symptoms of food allergies (see the list below) I highly recommend you doing an elimination diet with gluten. Although you can breakdown gluten it is very hard to digest it completely in most peoples guts leaving an undigested molecule that can lead to poor permeability in your gut lining which can result to further inflammation. By ignoring this inflammation more and more undigested foods can leak through which triggers an immune response which will just make you more sensitive to more and more foods. Not to scare you but this is what happened to me and I became sensitive too many common food allergy foods. Luckily it is not an allergy and you may be able to eat these foods again once your gut lining heals. It takes awhile for you to come to this conclusion and it does take time to heal, but is possible with proper guidance!
Symptoms of Food Allergy, Sensitivity, & Intolerance
The symptoms of food allergies, sensitivities, and intolerances can affect many parts of your body. I assumed if I was having food sensitivities it would present as digestive troubles, but to my surprise it can manifest as many symptoms as listed below. Symptoms can happen immediately after eating a food, or in some cases several days after consumption. Here is a small list of symptoms that can arise from a food sensitivity:
Digestive and IBS symptoms such as bloating, gas, stomach pain, diarrhea, or constipation
Fatigue, chronic exhaustion despite adequate rest.
Pain symptoms including joint pain, body pain, or headaches
Neurological symptoms such as brain fog, memory problems, anxiety, or depression
Skin symptoms such as rashes, hives, eczema, or acne
The most common type of gluten in our diet:
Enriched White Flour: This is what most processed goods are made out of. White flour essentially has no nutritional value. Any refined flour, including unbleached flour, is a refined grain. Refined grains are milled to take out the bran and germ of the wheat kernel. The milling process gives flour a nicer texture and an extended shelf life, but it also removes fiber, B vitamins and iron (the good stuff).
Enriched white flour is digested much faster than whole grain (not a good thing) because this usually results in a blood-sugar spike then crash. This releases cortisol (a stress hormone) every time this happens or every time you eat white flour. Whole grains are digested slowly due to the high fiber and protein, this results in you feeling full for a longer period of time and more stable blood-sugar levels. If you continue to eat gluten try to only eat things made with whole grains.
The term "enriched" white flour is deceiving. The nutrients that are added back in to "enrich" the flour are synthetic forms of what was stripped away during processing. These nutrients are unrecognizable and therefore, unusable by our bodies. Whole grain foods have more nutrients, period.
Flour is bleached so you cannot tell it is rancid bleached and enriched wheat are common ingredients on food labels. This means it is processed in such a way it is bleached and more than likely also having MSG (an addictive chemical that makes our food taste better). Flour is bleached with a chemical called potassium bromate. During the 1980s bromates were linked to cancer in laboratory animals but is still used in the United States although he FDA has encouraged bakers to stop using it, no ban has yet been placed. The ingredient is outlawed in Canada, the United Kingdom, and Europe. An "unbromated wheat flour," in the ingredient list indicates that they've chosen to eliminate it from their process… but who has actually seen that on a label? So if you are going to continue to eat gluten after this post look for organic unbleached and unbromated wheat flour. But I recommend you limiting it or giving it up completely. Why feed your cells something with no nutrition which results in your body having to work harder to digest it?
If you are just not ready to explore the life of gluten free living I encourage you to eat whole grain and flours in their whole form such as Einkorn. Gluten is more absorbable if sprouted or soaked so breads like Ezekiel or silver hills are great options!
Hidden sources of gluten to be aware of:
I don't want you to go crazy reading labels but I will list some sneaky ingredients and foods that contain gluten. Although the ingredients may not be good for you the FDA legally has to requires all food labels to include warnings from the top 8 major food allergens which makes it easy to spot when something contains gluten. These allergens account for more than 90% of all food allergies in the U.S. and include: Milk, Eggs, Fish, Crustacean shellfish, Tree nuts, Peanuts, Wheat and Soy.
Natural flavors can be a sneaky place for gluten to hide but if it is labeled gluten free it only uses certifiably gluten free spices, chemicals and additives that hide in natural flavoring.
Remember the Acronym "Brows" for the main sources of gluten.
B- barley
R- rye
O- Oats (unless stated GF)
W- Wheat
S- Spelty
Here are the more hidden sources:
Anything with barley or malt
Breading
Brewers Yeast
Bulgur
Couscous
Durum
Starch
Soy sauce
Natural Flavors
Bouillon cubes
Brown rice syrup
Modified Corn Starch
Great gluten free grain options:
Below are some great gluten free options. Be sure to soak your grains as it removes approximately 20–50% of the phytic acid from the grain making it easier for you to digest. Experiment with sprouted grains as well as they are full of nutrition!
quinoa
wild rice
buckwheat
sorghum
tapioca
millet
amaranth
teff
arrowroot
oats (make sure they're labelled as gluten-free as they may be contaminated with gluten during processing, also chose organic here as non organic oats are genetically modified and sprayed heavily with weed killer.)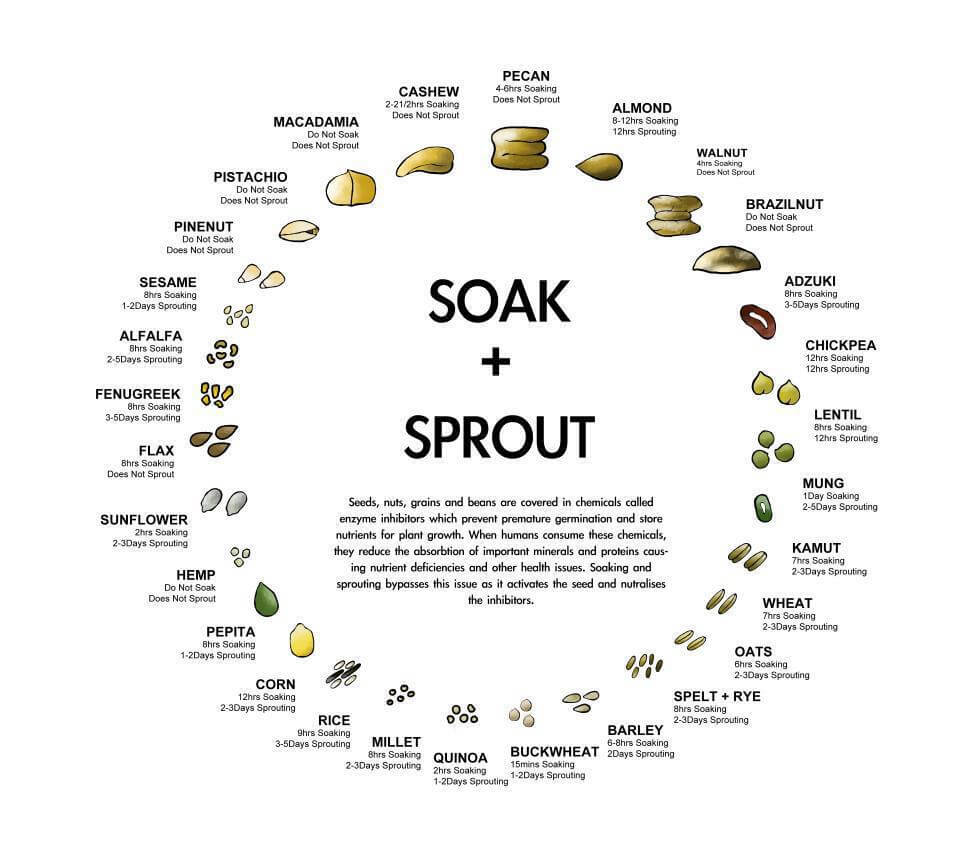 Gluten Free Grocery Items
A lot of gluten free items have natural flavorings, artificial flavorings, MSG, inflammatory vegetable oils and sugars to make it taste better. If you are a non celiac avoiding gluten to help with inflammatory symptoms you want to be sure you are minimalizing these foods as well. Processed foods are filled with these ingredients but there are a ton of naturally occurring gluten free options such as meats, fruits and veggies.
My favorite gluten free "clean" processed food brands are:
Lesser Evil Snacks
Chomps and Epic Jerky
Siete Products
Unreal Chocolate
Justin's Chocolate
Simple Mills Products
Larabars
Primal food Kitchen Products
Silver Hills Gluten free bread
Ingredients to stay away from in foods that cause inflammation and poor gut health:
Just knowing a product is gluten-free isn't enough sadly—we need to look at the labels and see what ingredients the product contains. This is for non gluten free followers as well. Most of these ingredients are in highly processed foods so by avoiding them you can avoid most of these ingredients.
Even though the FDA hasn't banned these ingredients, we have to remember that they are not food. These gums, stabilizers, and additives are just that! They are in most big named processed foods but you must remember they do not naturally occur in food. They are created to sell you on their product by making it taste or feel better by manipulating food texture. Most prepackaged gluten free foods are highly processed and lack the nutrients, vitamins, minerals and fiber your body needs. Besides gaining weight and putting yourself at risk for several diseases, you may become nutrient deficient. When you continually eat these processed ingredients you can become deficient in several vitamins, minerals and fiber. Overall, we want to eat food that is as close to its natural state as possible. Here are ingredients I tell my clients—both gluten-free or otherwise to avoid:
Grains that contain low or no nutrition (like corn, rice, tapioca starch, potato starch and non organic oats) that have replaced the gluten with starchy ingredients. The sugar contents in these ingredients are higher than wheat, sugar, and even candy bars. The ingredients in Gluten-free foods raise blood sugar higher than all other foods. Remember sprouting and soaking your grains make them more digestible in general.
Processed Sugar (especially high-fructose corn syrup, brown rice syrup and white table sugar)Gluten-free foods use sugar to replace the flavors lost when grains were removed, and it's almost impossible to find a gluten-free product without added refined sugar. You'll often see sugar listed several times on the ingredient list in its many different forms: corn syrup, maltodextrin, dextrin, sugar, etc. Many gluten free foods contain rice products (rice starch, rice flour & brown rice syrup) — Rice is notoriously contaminated with arsenic, which is a "potent human carcinogen" according to scientists at Consumer Reports and classified as a group 1 carcinogen by the International Agency for Research on Cancer.
Inflammatory oils (Vegetable Oils) -Besides containing GMOs, canola, soy, and cottonseed oils are highly processed before they end up in our food. The most commonly used is soybean oil which is almost always genetically modified, which is high in omega-6 fatty acids that increase the risk of inflammation, cardiovascular disease, cancer, and autoimmune diseases.
Corn and/or soy which are usually genetically modified (GMO) — corn and soy ingredients (corn meal, corn starch, corn syrup, soybean oil, soy lecithin) are found in a lot of gluten-free pastas, crackers, and cookies and chicken nuggets. When you see anything made from conventional corn or soy on a label, it's a pretty safe bet that it's genetically modified (GMO) because the vast majority of these crops in the U.S. are GMO unless it is otherwise listed.
Gums such as Guar and Xanthan Gum which can trigger allergies or GI issues in certain people — Food companies often add the additive xanthan gum for texture and softness ESPECIALLY when gluten is taken out. This hasn't really been shown to be a dangerous ingredient to eat, but be aware that it's often derived from GMO corn and triggers allergies or gastrointestinal issues in some sensitive people.
** Remember I am not giving you medical advice and this is just my personal experience and professional knowledge. I hope this guide was informative and not meant to scare you but to make you aware of what we are feeding our bodies with daily and the benefits of removing gluten from your diet if you are having symptoms of chronic inflammation.